In order to renew our 30 day visas we headed to Kuta. We had no idea what to expect, the only thing we knew about Kuta was that it was a big party town for Australians, since it is so close. (We looked into going, after all we are sooo close, but it was very expensive and the nearest city was Darwin. To get to Sydney or any of the other, bigger cities would be very expensive. So we have to content ourselves with straining our eyes trying to look across the ocean at it and dreaming about the next trip). Kuta is MUCH bigger than our sleepy little village of Amed. And much more expensive. Where we could get a full on grilled fish dinner with rice and veggies for about $4 for both of us, here the prices are much higher- with meals costing us around $7-8, plus tax. I know, it's still a bargain, but it's crazy how much more expensive it is. Of course, there are also lots more high end options and plenty of western options from Starbucks to Wendy's and a few odd ones like Bubba Gump Shrimp and Cold Stone Creamery.
One odd thing that surprised the heck out of us is the amount of security here. All hotels have security sitting out front, searching cars when they come onto the grounds- and I do mean searching. They make everyone pop their trucks, and they bust out the mirrors to look under the cars. There were some terrorist attacks in Bali back about 10 years ago, I suppose these security measures are a result of those attacks. Still, it's disconcerting to see in an otherwise laid back beach atmosphere.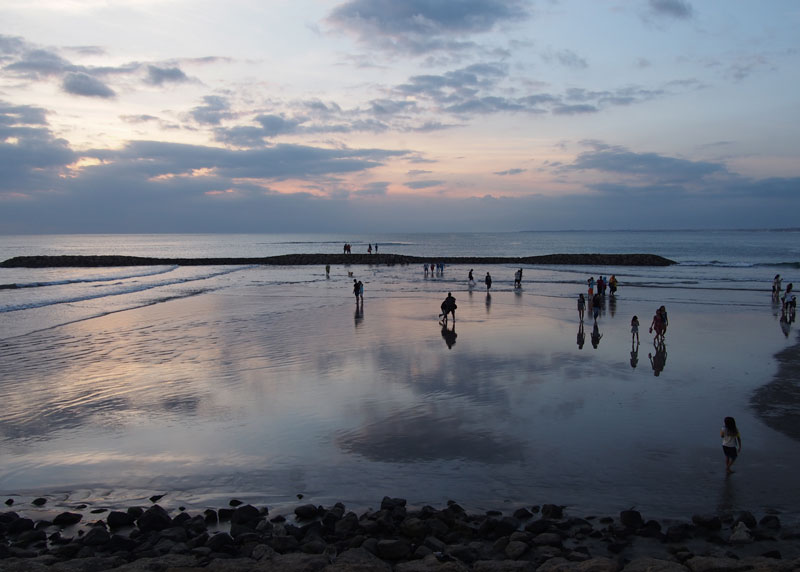 Oh, and the beach! The beach is also much nicer. The sugar fine white sand stretches almost as far as the eye can see. And there are kites and surfers everywhere. There are trees growing all over in the sand, not just palm trees, but all kinds of trees. It really is a spectacular beach. It is also within walking distance of the airport (I actually know this because in looking for the immigration office we walked it. Not a bad walk, actually). If you fly into Bali you can get off your plane and be in the ocean within 30 minutes of leaving the airport if you stay in Kuta, I am sure that's another reason why it is so popular. From the beach you can watch the planes land which is also pretty cool! So, good and bad when it comes to Kuta.
But, we were not here for sightseeing, we were on an important mission- get our visas renewed! We expected the process to take three days, each day we would be expected to go back to the visa office to fulfill one part of the renew requirements. We arrived on a Thursday with every intention of starting the process on Thursday, going back on Friday and then enjoying some sightseeing over the weekend and heading back to the office to finish everything up on Monday. From there we had a guesthouse in Ubud booked on Monday evening for a few days.
After we got all set up at our new guesthouse we asked them to be our "sponsors" (we needed a local sponsor to put on our visa application. Most hotels or guest houses will do this for you. Ours was no exception, the owner gave us everything we needed to stay for another month, no questions asked). So armed with our sponsor information, our passports, copies of our passport and email confirmation of our flight out of Bali we were about to set off to the immigration office when our hosts stopped us saying that the visa office is only open in the morning and closes at noon. Well, it was about 11:45 when they told us that. It really took the wind out of our sails. So, fine, we would be a day behind, but we could still leave Kuta and head to our next city, Ubud, on Tuesday. Irritating, but not the end of the world, surely our guesthouse would be able to move our reservation one day. Plus, Nick had a bit of a stomach bug and wasn't feeling up for walking in the heat (Kuta is also much warmer and much more humid than Amed). So, maybe it was for the best.
Friday morning we get up early to set off to the immigration office, hoping to be there a little after it opened at 9am. We set off and walkeed to where we thought the office was. Where all the official websites say it is. Where it should be according to the map. But, there was no office there. So,we kept walking, always thinking, "maybe around the next corner". Eventually we saw a police stand, so we asked where it was. The policeman told us to keep going, that it was up at the traffic light and then left. So we kept going. After about 20 minutes I started to wonder if there was ever going to be a traffic light and then, there it was! So, we turned right per his instructions and proceeded to walk up the street. And still couldn't find it. Dismayed, hot, cranky and tired (and Nick still not feeling great) we asked a security officer at a nearby hotel. I am not sure he had any idea what we were asking for, but pointed down the street and left. Tired of walking, we popped into the hotel to use their wifi and see if we could get anymore information about where the stupid immigration office was.
We searched everywhere, and finally we came across a trip advisor forum where someone had the same issue as we did. In 2012. But, we did get an answer- the office is next to the Petramina station. We had just passed a Petramina station! Hoping that info was still correct, we backed tracked just a bit to the Petramina station. Tucked away behind the station was a customs office. Sure that we were in the right place we stopped and asked a security officer where we should go. I am sure that our faces just fell when he told us we were about a kilometer away still. But, he did seem to know what he was talking about. He told us to head back put the street until we got to the big circle (we took this to mean a traffic circle. Fortunately, this interpretation proved to be correct) at the circle we were to turn left, it would be on the left side by the gas station (aha! The Petramina station reference made more sense). So we set off yet again.
We found the big circle and turned left. And walked. And walked. We were on the verge of giving up, after all it had been almost 2 1/2 hours, we were hot and tired. Half of us were sick. And we were lost with seemingly no hope of ever finding the immigration office. We actually even turned around to head home. We passed another security guard and Nick asked him where the office was. He looked at us and said "oh, just right up there, by the gas station" We looked up the street and sure enough, there was the fabled Petramina. We made it!
Of course, it couldn't just be that simple, wandering around lost for hours trying to find a mythical immigration office is only the first in a series of steps one must take to get their visa renewed in Bali. We walked up to the desk and said we needed to renew our visa. We were told we needed to have proof of onward travel, information about where we were currently staying and copies of our passports and copies of our original visa. We proudly showed her our copies, the email version of our plane ticket and a business card from the guesthouse we are staying in. She almost laughed out loud and told us that we needed PRINTED copies of our plane ticket (one for each of us), and full page copies of our passports and visas. She told us there was a travel agent down the street where we could print our tickets and a photocopy store next door. Oh, and also we would need to fill out our forms in black ink. Did we have a black pen? We just stared at her blankly, woefully unprepared. However, after running around a little bit more we were back with all of our papers and our forms filled out in black ink. We presented those and were told to take a number and that the visa process would take between 5-7 business days. Yup, that figures.
We sat in the office where eventually our numbers were called. We went up to the desk and we were told that our paperwork was in order and to come back on Wednesday for day 2 of the process. Argh. We walked the ridiculously long walk back to our guesthouse where we canceled the next guesthouse and prepared to spend some more time in Kuta.
Also, funny story- when we explained to our hosts that we needed to renew our visas and asked which way to walk they laughed at us. "You cannot walk there! It is 15 minutes by taxi!" We had checked and it appeared that there were two immigration offices, one right by the airport and one further away. We were sure they meant the office that was further away was not walkable. We said there was one by the airport and once again, they said "The airport is close, you can walk there, but you cannot walk to the visa office". Still convinced that we could, we set off that morning for the office. It turns out, out host may have known what he was talking about. It was not close and would have been a decent taxi ride. We laughed about this on the looong walk back. Of course, he doesn't know the great lengths that we will go to to not have to pay for things like a taxi. We will walk obscenely long distances just to not have to incur the expense of a taxi (we have been ripped off on more than one occasion and unless we have our bags we would rather walk). So, I guess we were both right. For most people it is not within walking distance, for us it is.
We spent the next few days wandering around Kuta and visiting the beach. The beach here is so incredible- long and sandy and even though there are tons of people here, it doesn't feel crowded because the beach is so long.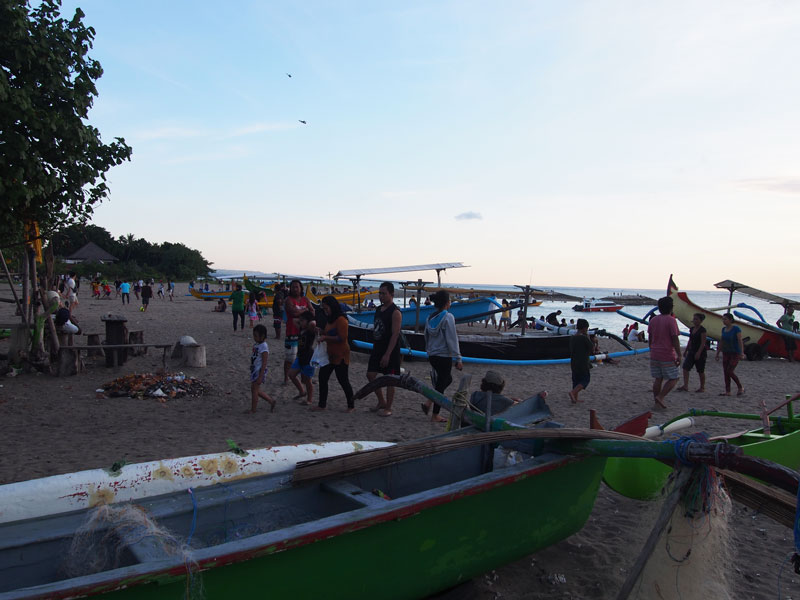 One of my absolute favorite things about Kuta was all the kites. Amed had kites as well, but not nearly as many as Kuta. There were tons of kites flying all day. Some of them were little kites that kids were flying but most of them were massive kites, flown by whole groups of people. We spent one very pleasant afternoon watching a group of about 6 kids trying to get a kite off the ground. The kite was so big that it took all of them to carry it and after several attempts (at almost smashing into a guy and his dog at least twice) they finally got it airborne. It was very entertaining. The other activity I enjoyed was Balinese Dancing. Several restaurants had dancing at night and it was incredible to watch- there are plenty of big, graceful moves and swoops, but there are also a lot of tiny gestures and nuances to the dances. We enjoyed it immensely!
And, fortunately, out next two visits to the visa office were fairly quick and straightforward and we had everything we needed by the end of the week. So Friday we set off to our final Bali destination- Ubud.