After Ken and Kelli left, we had to figure out what to do next.
When people come visit we always have a great time, it's a bit like a vacation from a vacation. They always come ready to have a good time and so we have a chance to go from our penny pinching traveler versions of ourselves to vacation versions of ourselves. Nathan phrased it best after shaming us for not wanting to spend 3 euro on a beer when he said "well, this is a vacation for me, not a lifestyle choice". We realized when people come visit they come to have a good time and we definitely go along with that.
Anyway, its very fun, but when they leave it is always a little tough to say goodbye. It was like that this time as well, only it seemed to be even harder to shake off the funk after they left. We wondered why this was so different, why the funk was lasting so much longer and ultimately we realized it was the last big thing we had to look forward to, it signaled the beginning of the end of the trip. We didn't have anymore visits to look forward to. We were looking at (and booking) flights home. We were talking about what we were going to do when we got home. We were at the end of our budget.
The idea of this year being over already was sad. It has been such an incredible year, we have had some amazing experiences, met tons of genuine, warm, friendly people from all over the world and seen some of the most inspiring things. I am at such a loss to communicate how utterly crazy and probably life changing this year has been.  It has changed my views on the world and what I want out of life. It has been such an incredible experience and the idea that it is almost over is sad and scary- who knows what comes next.
We moped around for several days trying to figure out what our next move was.  Ultimately, we decided to stay in Bali. We spent the next two weeks in Amed before heading to Kuta to renew our visas. We found a small guesthouse near the beach- it was very cheap and definitely the kind of place where you get what you pay for- i.e a mouse in your bedroom digging through your trash at 2am- yikes! But it came with breakfast, it had AC, good internet (important, since we have both recently had to pick up online jobs to finance our last few weeks) and it was a good location. We spent the mornings on the patio and the afternoons in the water.
We rented a moped a few times, no longer confined to the restaurants and beaches within walking distance, we were excited at the prospect of freedom. We visited the Japanese shipwreck where we once again were lucky enough to catch it on a clear day and saw tons of fish.
We headed down to Vienna beach where we had done some of the best snorkeling of the entire trip. We snorkeled there for a while one day, coming up to chat about the various fish we had seen and during one of these chats Nick reached up and grabbed a crab out of his hair. It had been hitching a ride with him for a while he said. He tossed it into the ocean and we continued on our way. After we had snorkeled to our hearts content (well, my hearts content. Nick would probably still be out there right now if he had his way) we headed back up onto the beach to dry off and watch the other snorkelers and the waves. After sitting for a few minutes, I thought I felt some seaweed in my hair, I reached up to pull it out and what came out- the same crab that Nick had previously had in his hair! I let go and it scuttled down towards the ocean, but not quite fast enough, a few feet from our spot on the beach another crab darted out of its hole, grabbed our friend and pulled him into his hole. Poor little guy.
We sat and watched the ocean for a long time. At one point, Nick, with his excellent "field vision" (the same vision that allows his to see every penalty that occurs on the field while we watch football games, while I get wrapped up in what happens where the ball is) saw a manta ray jump out of the water. He claims it was fully airborne and one of the most amazing sights of his life.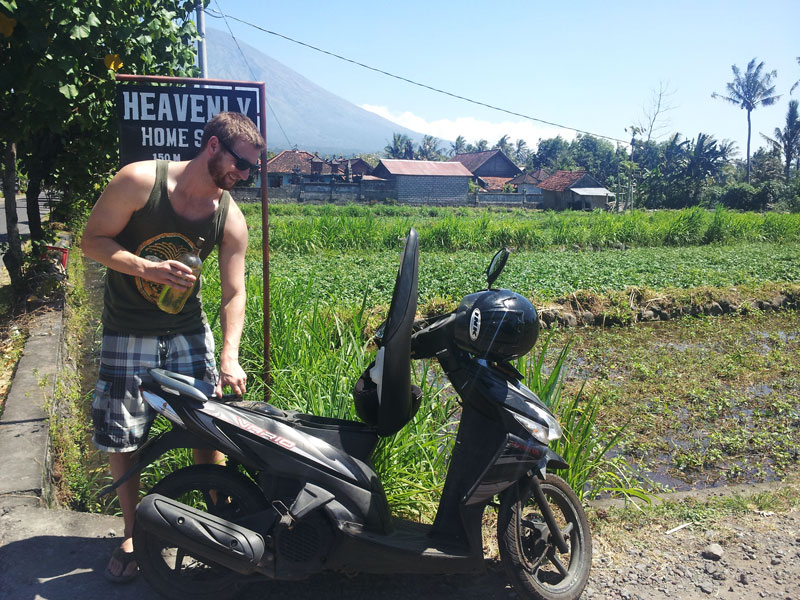 We headed out to view the rice paddies near us and ran out of gas. Fortunately, we were very close to a warung, the small convenience store type places that line the roads of Amed. They usually sell gas- often it is available by the liter and the liter is usually an empty glass liquor bottle or pop bottle. The liters of gas available at this warung were in glass bottles. Apparently they were quite important to the owner as well- even after we conveyed our problem and pointed out our still visible scooter he was hesitant to allow us to take one of his glass bottles. He was kind enough to offer to pour the gas into a plastic bag for us to take away though. Umm, pass on a to-go plastic bag full of gas. We were finally able to talk him into letting us take the glass bottle and after filling up our tank, we promptly returned it.
We scooted out to watch the sunset over the hills of Bali one evening. It was not only a gorgeous sunset, it was also a great time. Locals sat up on the hill with guitars belting out Bob Marley, tourists came with cameras, snacks and drinks (and the occasional full on coffee set up) to watch the sunset. It was a great party!
We also went back to the USS Liberty to try and snorkel there. The first time had been a complete disaster. The current was really strong, the waves were really high and the water was super cloudy. It was also a really long ways away and there were rumors of police along the well traveled route stopping tourists for illegally driving mopeds without an international license (which we didn't have) and for a small bribe they would let you continue on. But we knew we would regret it if we didn't at least give it one more chance.
So, we packed our snorkels and headed out to the USS Liberty. We made it without any incidents and were lucky enough to catch it on a clear day. The wreck was much bigger than the Japanese shipwreck. Parts of it came close to the surface, but most of it was in very deep water. Fortunately, the parts that came close to the surface were teeming with fish and coral and were close enough that we were able to swim close enough to touch it (don't worry, we didn't actually touch it- we had no desire to mess with the fragile ecosystem that is the coral). However, it was very cool to be able to swim in and around a shipwreck while snorkeling. Never have we wished so much for a GoPro to get a quick video of how awesome the fish and the coral were. Because so much of the ship is so deep, the USS Liberty is also a very popular spot for diving. Every once in a while while we were snorkeling groups of divers would go down or come up and we would be surrounded by bubbles from their tanks. It was just a fun afternoon and we were so glad we went back!
After our two weeks in Amed we had to go renew our visa. The "visa on arrival" is only valid for 30 days, and we wanted to spend the rest of our trip here. It is not only nice and cheap, but we would have to fly if we wanted to go anywhere, and again, we are at the end of our budget! Plus, it's gorgeous, the weather is almost perfect and the people are so friendly. So, off to the main city of Kuta we went to renew our visa. A process that we estimated would take 3 business days….