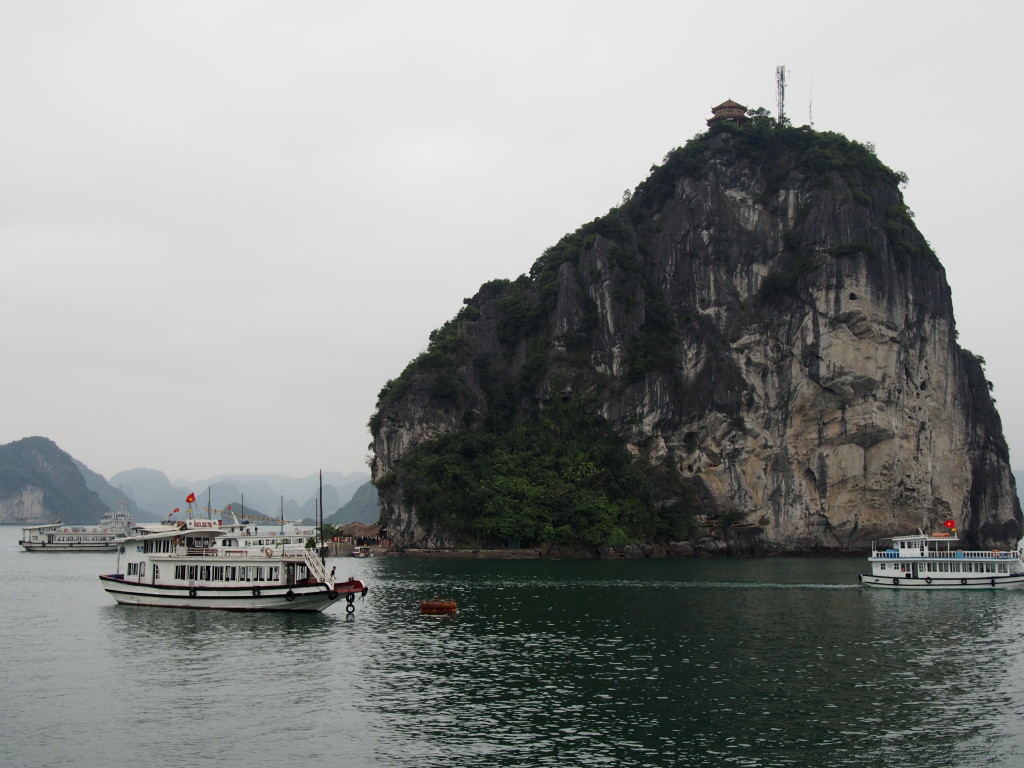 Hanoi was hot and humid for the first few days we were there, but then it cooled off significantly (we're talking a drop from the high nineties into the eighties and then down to the high sixties- a serious, but very welcome dip). At first, we were excited, but then we realized that the timing was terrible. The day that the high was only supposed to be 68 was the same day we had booked an overnight cruise on the beautiful Halong Bay. So we were a little bummed by the weather, which ended up being fairly chilly and quite cloudy, but overall had the most fantastic cruise.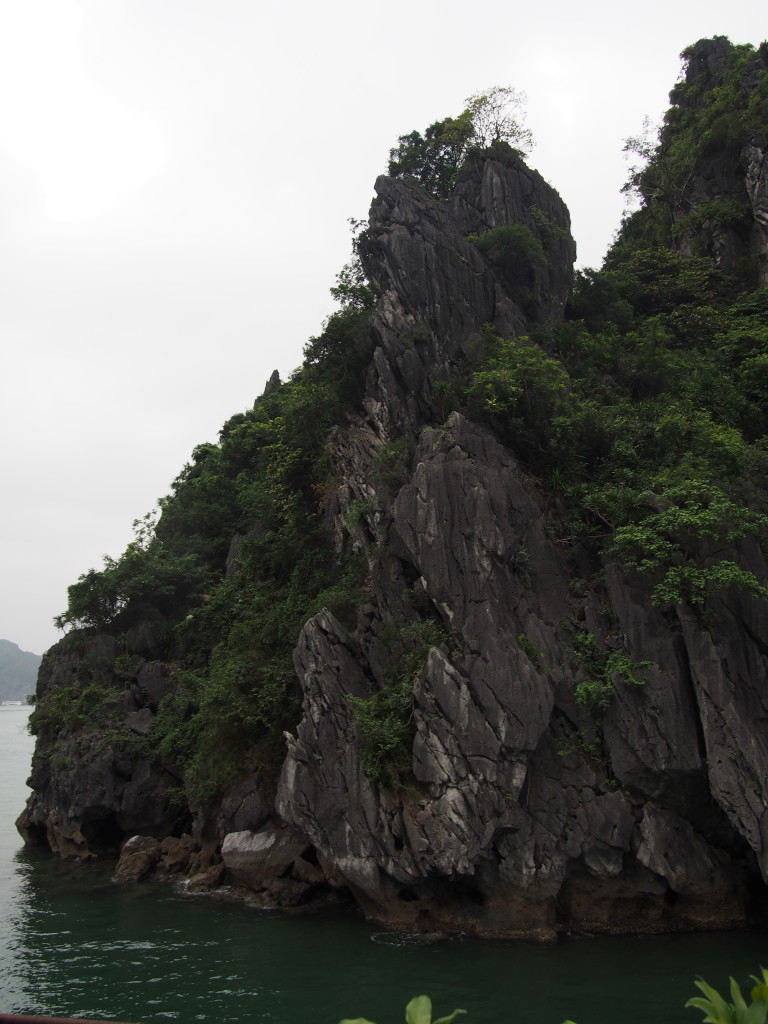 We were up early to catch a taxi to the travel agency where we were going to catch the bus to the bay. We caught the bus and then drove around collecting other passengers on our cruise and one crazy couple who, thankfully, were not. The three and a half hour bus ride was mostly unremarkable or maybe we are just getting used to the crazy traffic). We stopped at a really nice, really clean rest area where Nick got a ham and cheese sandwich with 4 chips and a tiny smear of ketchup on the side, we actually laughed out loud when we saw it.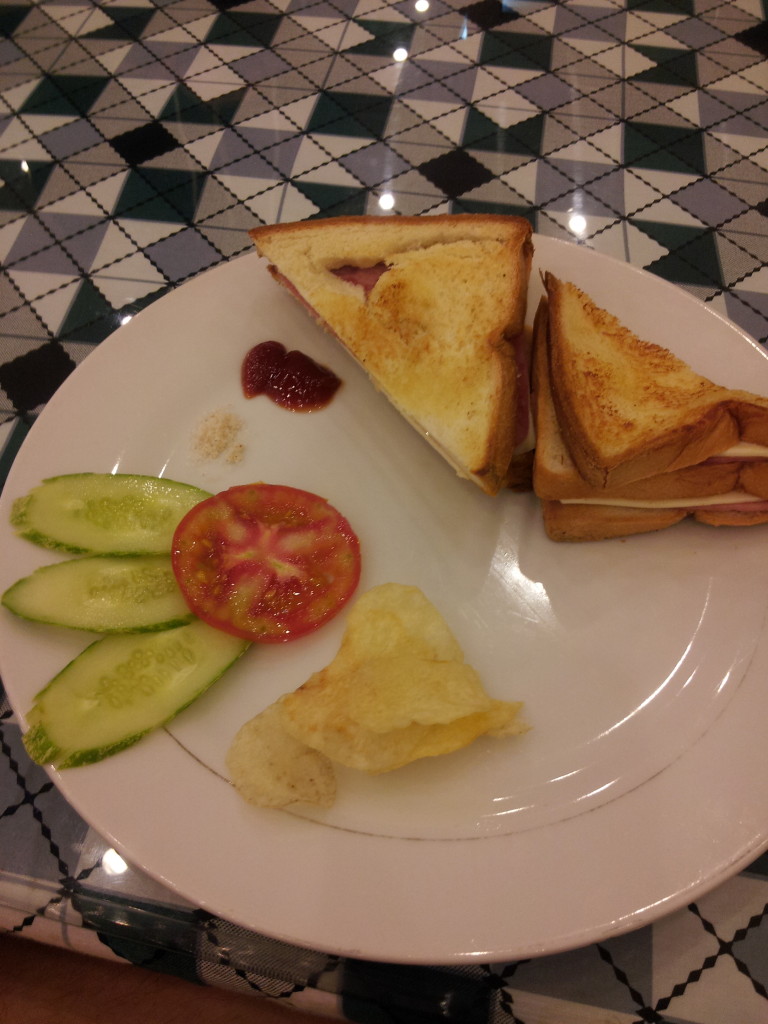 Next we were told we would be stopping at a pearl farm… Which turned out to be a pearl store and shameless sales tactic. We did learn a lot about pearls- the time it takes to make them in various sizes, things that impact color (initial color of the shell used for seeding, temperature, water depth, sunlight and food) and a way to tell real pearls from fake by rubbing them on glass.
We finally got to the bay where we took a small boat to our new home for a night which turned out to be a beautiful boat with personal cabins, a sun deck on the top and a dining room/common room. We got on with the 11 other people in our group and our very enthusiastic but sometimes difficult to understand guide, Candy (whose real name was Binh) and enjoyed our welcome drink (a glass of fanta) and chatted a bit with our fellow travelers. There were two American girls (from Boston) who, after graduating from college, decided that they were not ready for the real world yet, so they moved to Ranong, Thailand to teach English for five months. They had just wrapped up there and were traveling throughout Southeast Asia before heading home again. There was a group of four from England who had jobs but quit to teach English all over Thailand. They were all traveling together before heading home as well. Two girls, also from England, and a man from Brazil completed the group. We ate lunch with a couple from Denmark who were taking a gap year after high school and travelling throughout Southeast Asia before heading to college in the fall. They had also spent time traveling through Europe before heading to Asia. Overall, we had a really great group, everyone was super fun, easygoing and really nice. After dumping our stuff in the nicest room we had stayed in in a very long time, we ate a huge lunch of squid, fried pork strips, tofu in tomato sauce, spicy pickled cabbage salad, a whole fish that tasted coconutty and was covered in onions and tomatoes, cucumber tomato salad, steamed rice (natch), and orange slices for dessert- it was a ton of food but so good!
After lunch we cruised the bay to Surprise Cave. We sat up on the top on the not-so-sunny sun deck with our fellow travelers taking pictures and swapping stories about our travels. The bay itself is absolutely gorgeous. It is made up of 1,969 limestone islands, some very small and others are quite large, but all are absolutely amazing to see and quite breathtaking. It would have been nice to have some sun, but it was still amazing and to be honest, it was nice to not be hot for a little while.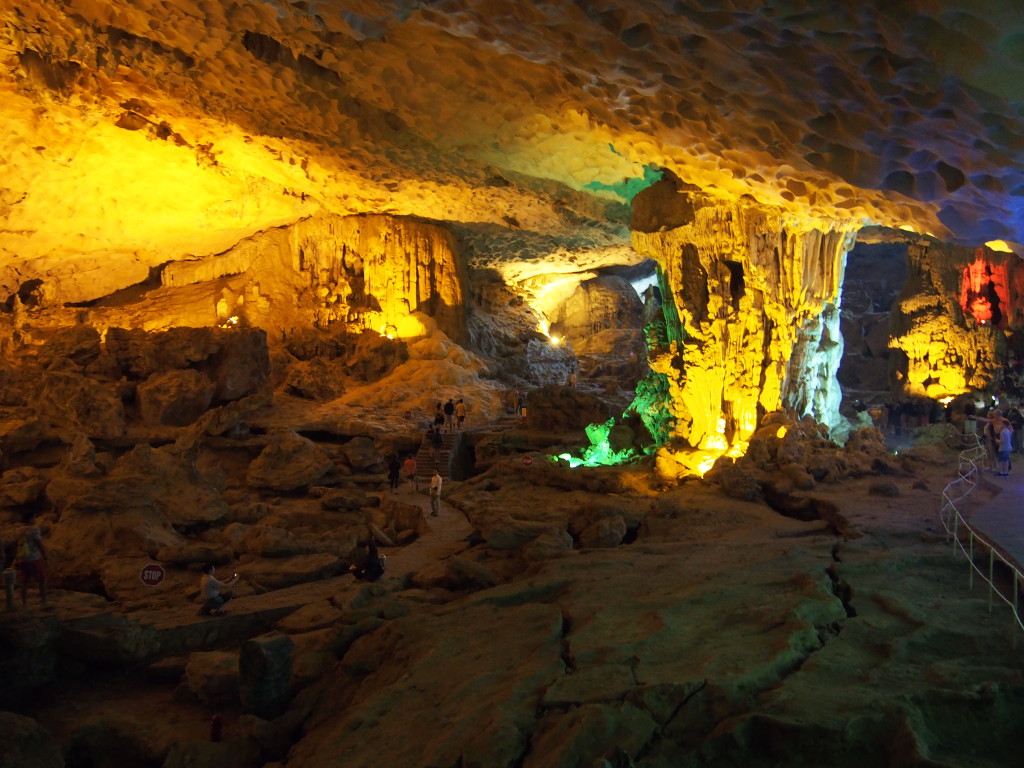 We docked at a fairly large island and climbed up about 200 stairs before we got to the entrance of the cave. The cave had three rooms, each bigger than the last. Up until 1994, when Halong Bay was placed on the UNESCO list of world heritage sites, the cave had been occupied by fisherman. Now, it is only full of tourists. Candy pointed out many of the rock formations and told us the animal or object they were named after, some were fairly obvious and once they were pointed out were easy to see. Others were a bit of a stretch and some were just flat out impossible to see. He did elicit groans from out group when we stopped at a rock that looked like a turtle (this one actually did look like a turtle, very little imagination needed) and he asked if it was a male or a female turtle. We all shrugged and he told us it was a female turtle, we could tell by looking at the mouth which was open and would be open 24 hour a day. Sheesh, even writing that is making me groan internally a bit. The cave was great, but the view of Halong Bay when we exited the cave was spectacular!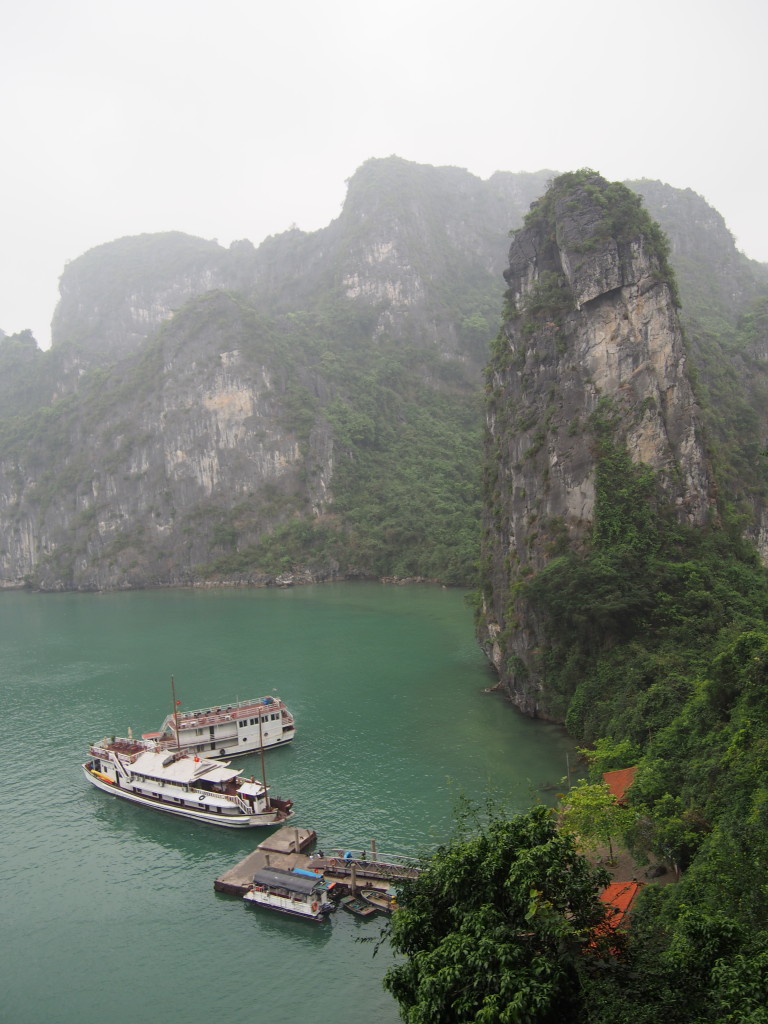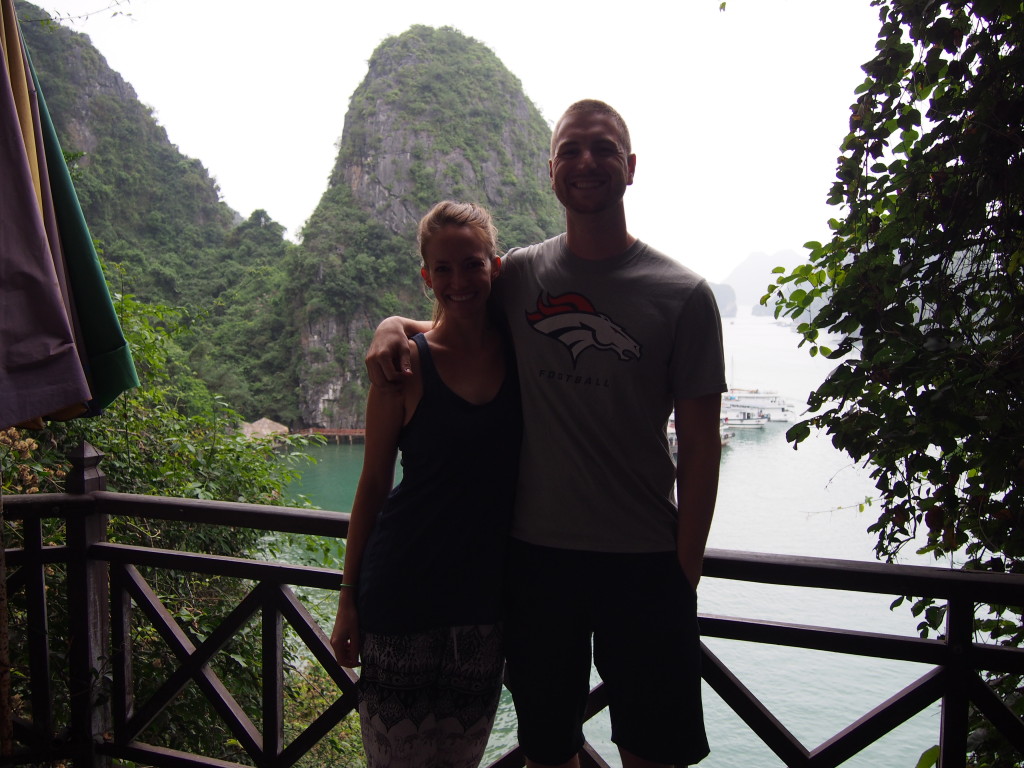 After the cave we were told the next activity would be kayaking. Umm, it was barely 70 degrees and cloudy. We were not sure about that at all. However, we decided that we were not going to sit out a cool activity just because we didn't want to get a little cold. And we were so glad we didn't, the kayaking was just great. We first kayaked under a small, natural opening in the rocks which took us to a very secluded cove completely surrounded by towering limestone cliffs. The cliffs were topped by huge tress and thick, rope-like vines trailed down. Every once in a while, a hardy tree would poke its way out of the cliffs and do its best to survive on the side of the sheer cliff. Huge birds of prey soared overhead. It was truly amazing. It was only accessible via the cave like opening under the rock so it was only kayakers and fisherman in the cove. It was peaceful and quiet and the immense limestone formations jutting out of the water were a sight to behold. The water was also incredibly warm. The peace and quiet didn't last long in the cove though. On one of the towering cliffs above us, monkeys started screaming and jumping around in the trees. After paddling around in the cove for a while and investigating all kinds of rock outcroppings, overhangs and partial caves we headed back out to find more monkeys! A family of three monkeys were dangling precariously (but adorably!) close to the water from an intrepid tree growing out of the rock face. They frolicked there for a minute before scrambling up the side of the cliff.
Although the water was fairly warm, being wet and in the wind was very cold and after an hour of exploring in kayaks we were happy but cold. Back aboard our boat we were so pleasantly surprised to find hot showers! After getting warm we headed upstairs for dinner where we had prawns, clams, dragon fruit, steamed rice, spring rolls, morning glory, beef and vegetables and vegetable egg drop soup. We sat with the two American girls and got to know them a bit better. They had traveled up through Cambodia (loving Siem Reap, but Phnom Penh, not so much) before heading to Ho Chi Minh City. They only stayed in Ho Chi Minh city for one night as they had heard a multitude of horror stories. They had friends who had been robbed at gunpoint, beaten up, or robbed by people on passing motorbikes. A friend of a friend had been very unlucky as a man on a passing motorbike grabbed her purse. Unlucky for her, the strap didn't break and she was dragged a hundred yards and had to go to the hospital. We had heard from another guy we met that he had had his phone is a friends purse and her purse had been stolen in the same way in Ho Chi Minh City. They had returned to their hostel that night to find that five other people there had been robbed as well. It goes on, the horror stories were enough to convince anyone that Ho Chi Minh City was a death trap. However, we had found it to be very pleasant and really loved exploring it. The girls were shocked to hear us say that nothing bad had happened and that we had found the city to be absolutely lovely. We swapped travel stories with them well into the night before heading to bed. As we left the dining area and headed down to our cabin below deck we ran into the two guys from England who were squid fishing. They had not had any luck yet, but were doing their best to make their bait look and move like prawns and were very hopeful. We caught up with them the next morning and they said they had had no luck.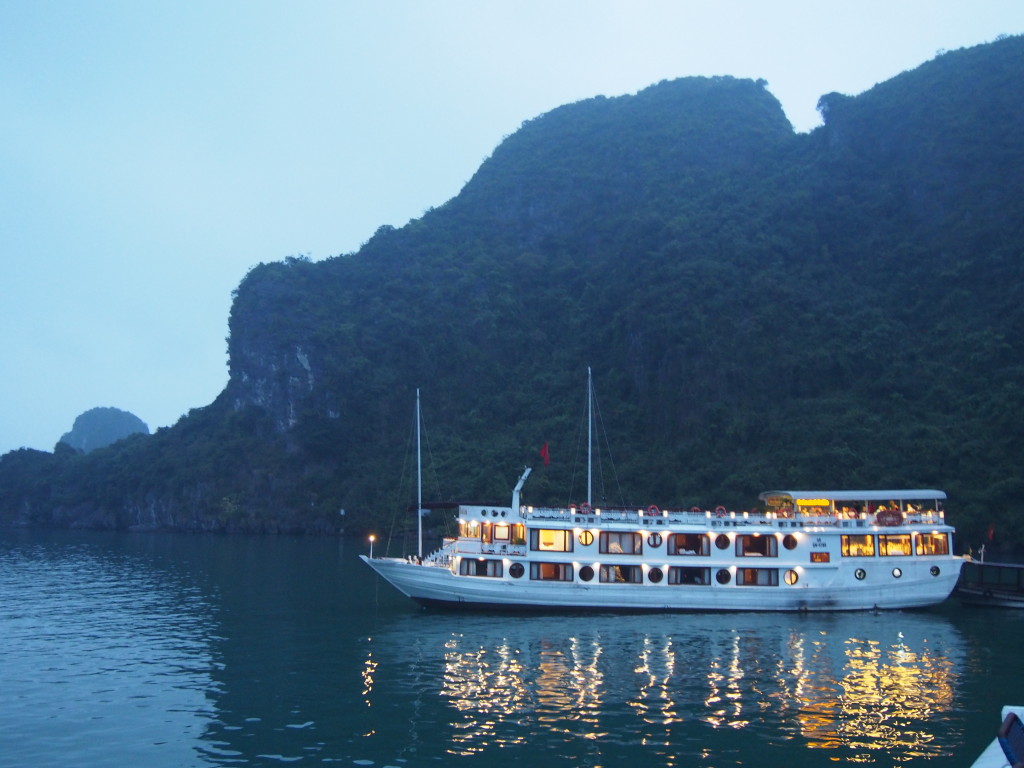 The next morning we were up early to eat breakfast before heading to another small island to swim and trek up to a viewing point at the top of the island. We walked up the almost 400 steps to the top and found the view to be very beautiful. We also saw more monkeys (including a baby!!) on the way down.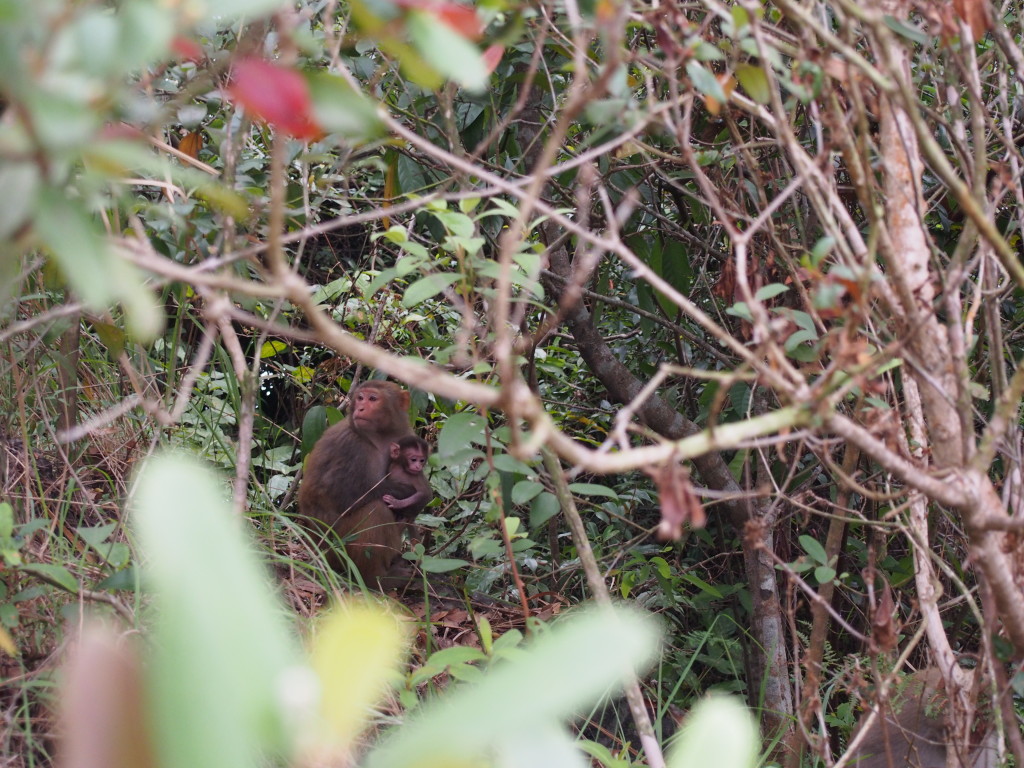 Because the second morning was even chillier than the first, I did not swim. I only waded in up to my knees. Nick did swim. The guy from Brazil was out swimming in the water and said it was not cold, so like a sucker, Nick jumped in too, and found that the water was, in fact, freezing.
After our swim, we packed up and headed to Catba Island where we dropped off some of our group to stay on the island and we picked up a few more travelers to go back to Hanoi. We headed back towards the mainland but got a quick demo on making spring rolls- which we are pretty much experts at by now- and then ate lunch before saying goodbye to our boat and taking a bus the three hours back to Hanoi. It was a short but fun filled and gorgeous trip!