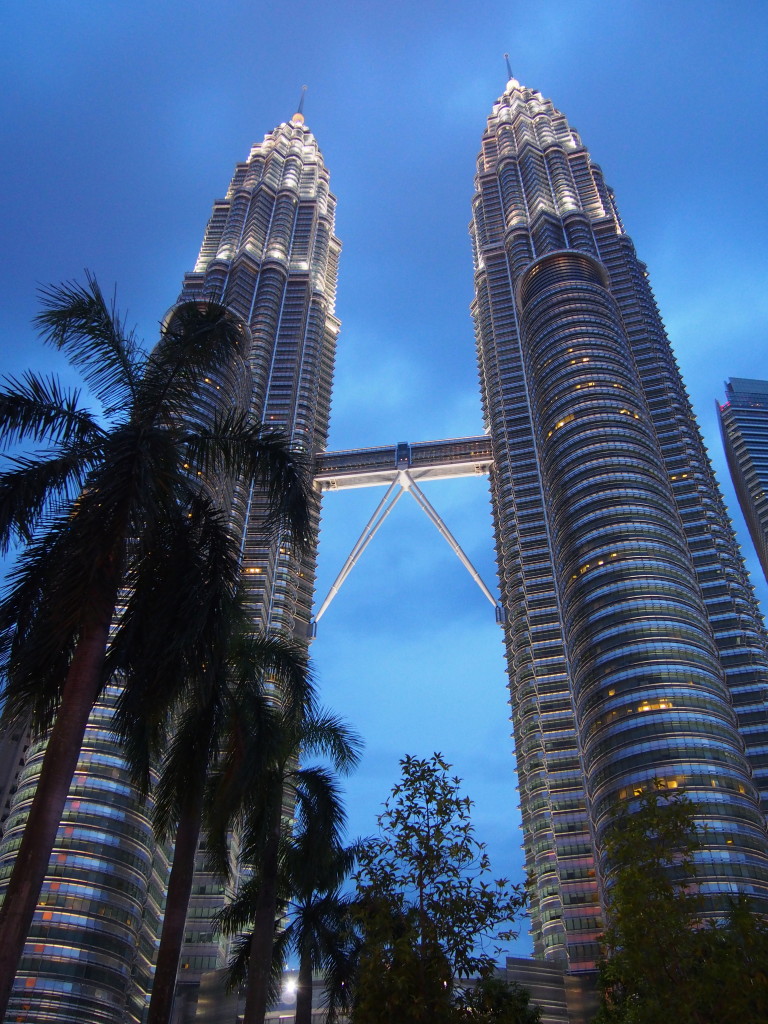 Next up, country number 31, Malaysia. We visited two cities in Malaysia and they could not have been more different. Kuala Lumpur was a modern and bustling city, Melaka was a gorgeous port city full of eclectic architecture and charm.
We stayed in Kuala Lumpur for four nights. While each day dawned hot and muggy, each evening included an epic thunderstorm which cooled things down significantly and made walking around in the evenings absolutely wonderful. Of course, walking around during the day wasn't too bad either since many of the places we ventured to were connected via large air conditioned tunnels. This made traveling through the city a breeze, not only did we not have to deal with the heat or worry about the rain too much, it also made it easy to get places and we rarely had to worry about crossing streets. We did get caught in the rain a few times though. Fortunately, there were plenty of coffee shops that we could duck into and watch the rain fall down.
Being in Kuala Lumpur, we had to go visit the impressive Petronas Towers (numerous references were made to Harry Potter and the Execto Petronum spell). They dominated the skyline throughout the city, and were unbelievably cool and absolutely gigantic close up. Unlike the current "tallest building in the world" Burj Kalifah, the Petronas Towers were easy to get to from the street and were surrounded by a gorgeous green park (although, with the amount of rain we saw while we were there it is no wonder the park space was so lush and green). There was a large conference center on the far side of the park and a very large, very hoity-toity mall at the base of the towers. There was also a man-made lake and small fountain show outside the buildings. We spent a lot of our time in Kuala Lumpur wandering through the park and looking at the towers.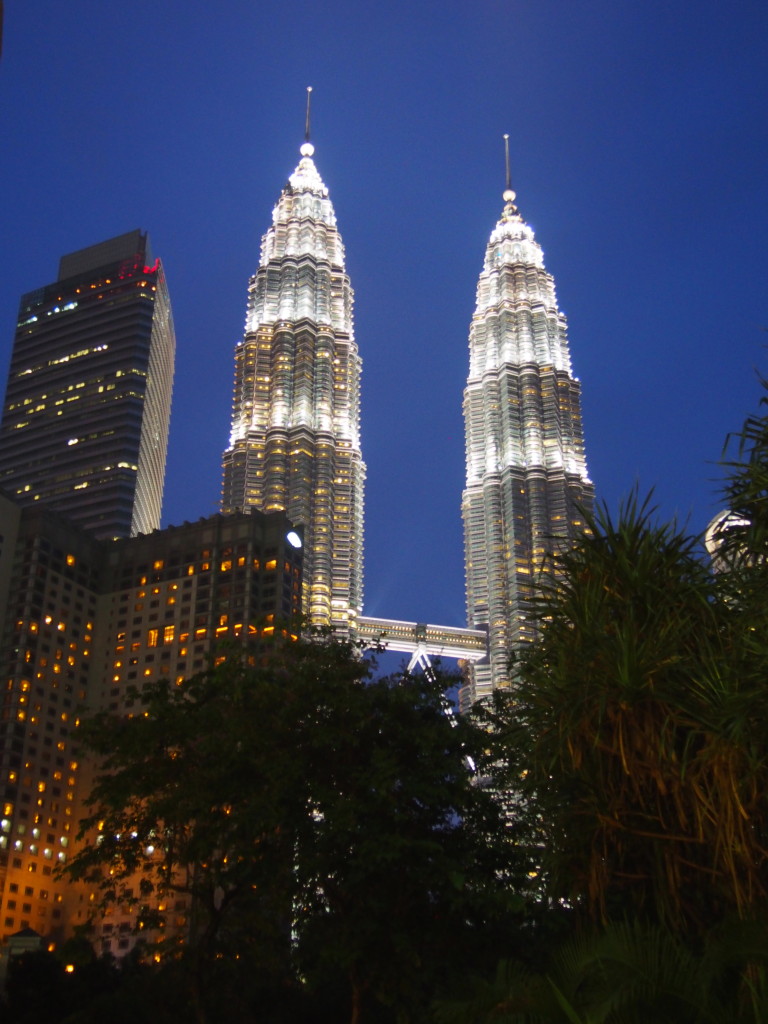 Our next stop in Malaysia was the small but very charming port city of Melaka.
It was originally a strategic stopping off point between Asia and India, Africa and eventually Europe. It prospered independently for a long time but was coveted by all who used it. Finally, the Portuguese conquered the port. While there seems to be no great love for Portugal, there is definitely a large Portuguese influence- the delicious egg custard (nata) and spicy foods being my favorite! Portugal eventually fell to the Dutch who also left their mark on the city in the form of churches and forts. Finally, the English came along and held the port up until the 19th century. Each culture left its mark, but the city retained a lot of its original character. For instance, Islam was the dominant religion in the area before the Portuguese came. Though the Europeans built churches and declared Christianity the religion of the region, there was and is still a large Muslim population and many very unique looking mosques as well as churches. We visited one mosque, known as the floating mosque, that was built out over the water. It was stunning.
We also visted the Christ Church which was built by the Dutch and still has its hand made pews that are over 200 years old.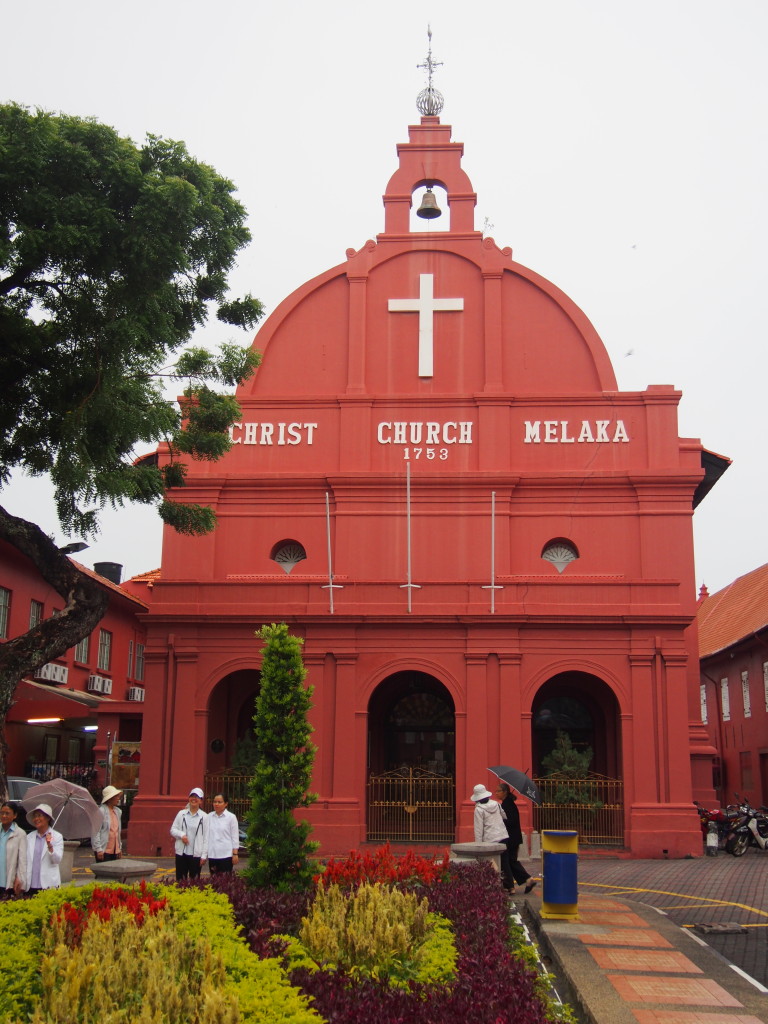 So there is this amazing blending of cultures and architecture unlike anything I have ever seen. We enjoyed wandering around and visiting Jonker Street, the famous night market there was full of food and all kinds of souvenirs, trinkets, shirts and gadgets.
We even tried durian for the first time. Well, not actual durian, I doubt we will evere have the guts to try the real fruit. We only tried a durian flavored cream puff. Even loaded with sugar, durian has a very strong flavor that we did not care for in the least. Durain is the fruit that we seem to find everywhere here in Asia. Even if we don't see the fruit, reminders of it are everywhere- trains and buses warn not to bring it on board, out hotel in Phnom Penh had a $500 fine if we brought it into our room. It smells very strongly of onions and tastes like a cross between an onion and vanilla pudding. I am glad we tried it, but if I never have it again, that is just fine with me too!
We spent our time in Melaka visiting museums, wandering the neighborhoods, trying new foods and walking along the river that runs through the old part of the city. It was very hot, but once again the afternoon thunderstorms saved us from heat stroke! After 5 nights in Melaka we caught a bus to Singapore- our 32nd country!