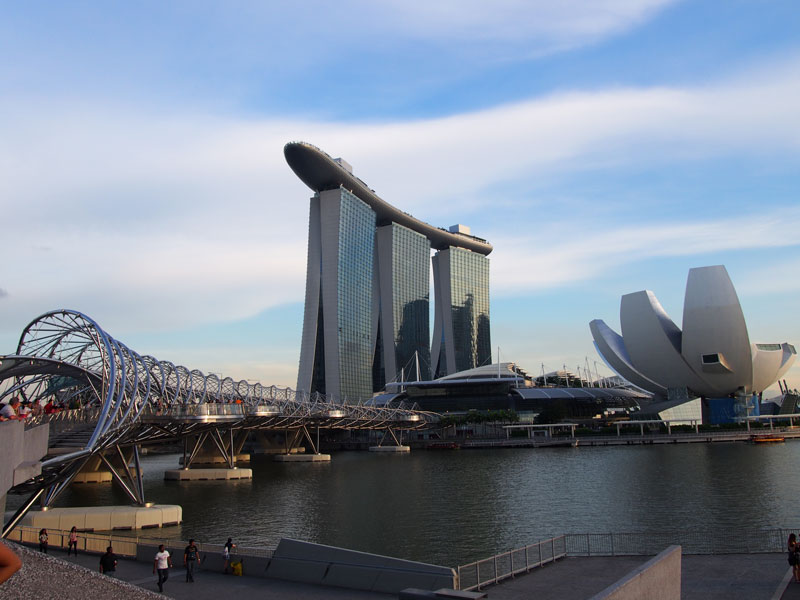 There is a very well defined backpackers trail through Southeast Asia- Thailand, Cambodia, Vietnam and Laos are all on it. Malaysia often makes the list as well, though Kuala Lumpur usually does not. However, one place that rarely makes the list is Singapore. We have heard that Singapore is the Disneyland of Asia and that it is not authentic. I wonder what that means- not authentic. How can it be less authentic? It is still its own, unique place which means it is authentic. However, for these reasons (and, I strongly suspect the price of hotel rooms has something to do with it as well) Singapore is often left off the backpackers trail that goes throughout Southeast Asia. We are so unbelievably glad that we didn't leave it off the list! We met Ken and Kelli there for 4 days of awesome!
We arrived around 2pm on a Friday afternoon after a long bus ride from Melaka. Ken and Kelli were flying in and were scheduled to arrive right around midnight. We had spent several hours in the Singapore Airport on our way to Thailand and enjoyed it so much that we got off our bus and went straight back to the airport. Actually, while we did enjoy the airport, the real reason we headed back was that our hotel was at the airport. We had all figured it would be the best, that way when Ken and Kelli got in from their excruciatingly long flight (an hour and a half from OKC to Houston, 16 hours from Houston to Tokyo and then another 8 hours to Singapore) and were total zombies from flying for that long they wouldn't have far to go before they could conk out. After figuring out the subway system and grabbing some lunch we arrived at the hotel a little after 4pm (where Mr. Platinum Status got yet another room upgrade- so we ended up with a very spacious, renovated room and a huge suite!!!). We were super excited to see Ken and Kelli and were anxious for midnight to come… finally, we got the text saying they had landed! We went down to pick them up from customs. They were exhausted but happy to be done flying and excited to be in Singapore and we ended up sitting up and chatting for quite a while before we all went to bed- it was very late but so good to catch up!
The next morning we all took our time getting up. We joined them for coffee in the morning and sat around chatting for a while. We grabbed lunch in the airport, which is actually way cooler than it sounds, and then went and sat by the pool for a while. They were still very tired, so we made it a lazy poolside day (not a shabby way to spend the day at all!). We moved to our next hotel later that afternoon. Our next hotel was quite a bit smaller than the first one, but was in a much better location (walking distance to the bay!!) and came with breakfast! Breakfast was included, which was great, as long as you were open to a wide variety of foods for breakfast. They had cereal and a guy making fried eggs and what seemed to be leftovers from lunch the day before. We had everything from breakfast spaghetti (which is regular spaghetti but served at breakfast), pork and beans, curried chickpeas, french fries, chicken nuggets, salad, lunch meat, and fried rice. And there was lots of good fruit as well (except for the first day- there was watermelon, but I am pretty sure that the table next to us took the entire melon to their table. Grrr…).
After breakfast the first day we headed out to explore Chinatown and visit the markets there. It was hot and humid, but the city is so cool. The subway is by far the cleanest and least stinky (it fact, it didn't smell at all!) I have ever been in. Chinatown was only one line change and a few stops down from us but it's totally worth taking the subway, it is always some of the best people watching. Chinatown was very different from the rest of Singapore, much more touristy and crowded. We stopped at a very beautiful Buddhist temple complete with a Buddhas tooth and orchid garden. I love just wandering- it's how you stumble upon hidden gems like the temple! We had lunch at a hawker center- basically a giant food court but with really good food! We ate chicken rice from one of the most famous stalls in the city, (Gordon Ramsay has a food Challenge with the Hawker stand and Anthony Bourdain declared it to be amazing as well) the line was by far the longest! But, it moved quickly and soon we were enjoying our chicken rice. It was pretty tasty!
Afterwards we headed home to get some more pool time 🙂
The next day we went to Little India on the recommendation of some Aussies we met in the pool (turns out, it was quite the world tour for us all- Singapore, Chinatown and Little India! We just wanted to make sure Ken and Kelli saw as much as possible during their trip!).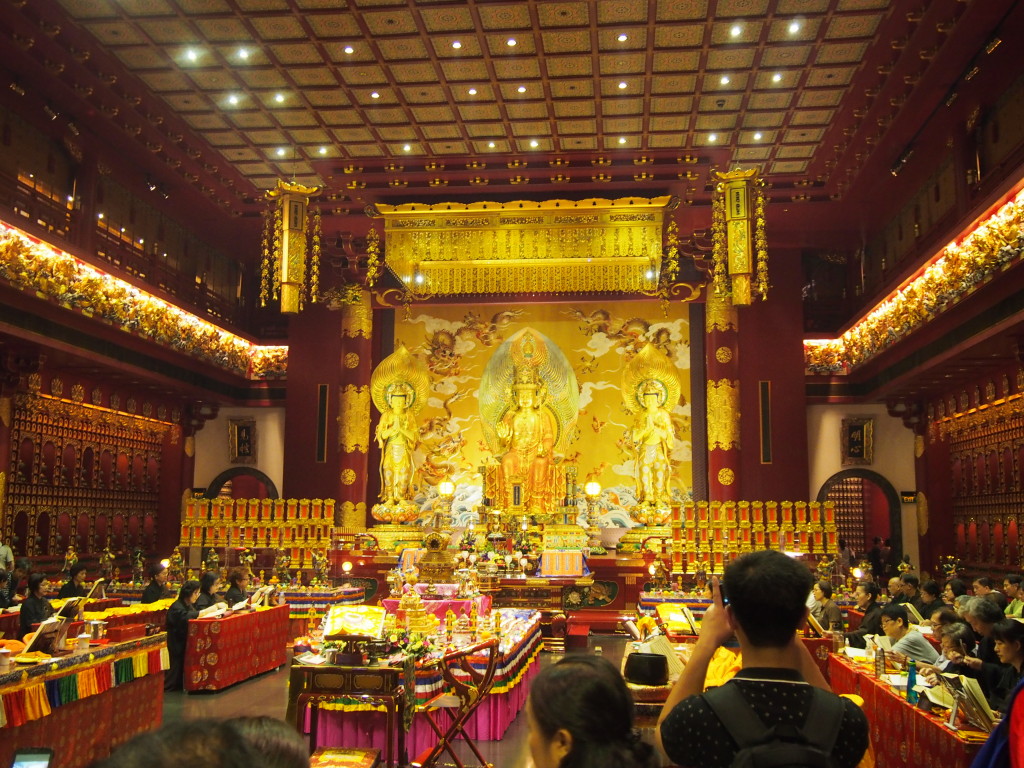 We ate some really tasty Indian food, checked out Hindu temples and tried to keep cool. That night for dinner we went to a very cool rooftop restaurant that Nick found. The food was good, but the view was even better.
After dinner we headed over to the Singapore Flyer where we got some even more spectacular views of the city, from the bay to the marina to the Marina Bay Sands. As the biggest observation Ferris wheel in the world, my feet got a little sweaty going in, but the views were absolutely breathtaking and it was totally worth it!!
We spent one more night at that hotel before we moved on to our final stop in Singapore- The Marina Bay Sands!! For three days we had looked at the hotel and admired it from afar before the day finally arrived and we got to go stay in the lap of luxury!! Even though check in wasn't until 3pm, we arrived at a little after 10am, hoping they would at least let us go up to the pool. Lucky for us, we got to check in early and talked our friend at the front desk into letting us checkout late the next day!! After checking in, we booked it to our rooms, which were, of course, amazing. We had these spectacular views of the city (Sam always complains that when we FaceTime our backgrounds are boring, even though we are in exotic locations. Not this time! This time we finally had an exotic view to match our exotic location!!).
After oohing and aahing over our baller rooms we headed up to the even more baller pool. Oh man, never has a pool been in such a sweet location with such a sweet view. We spent the afternoon taking selfies and then watching everyone else in the pool take selfies, looking at the view and marveling at how amazing it was to be there.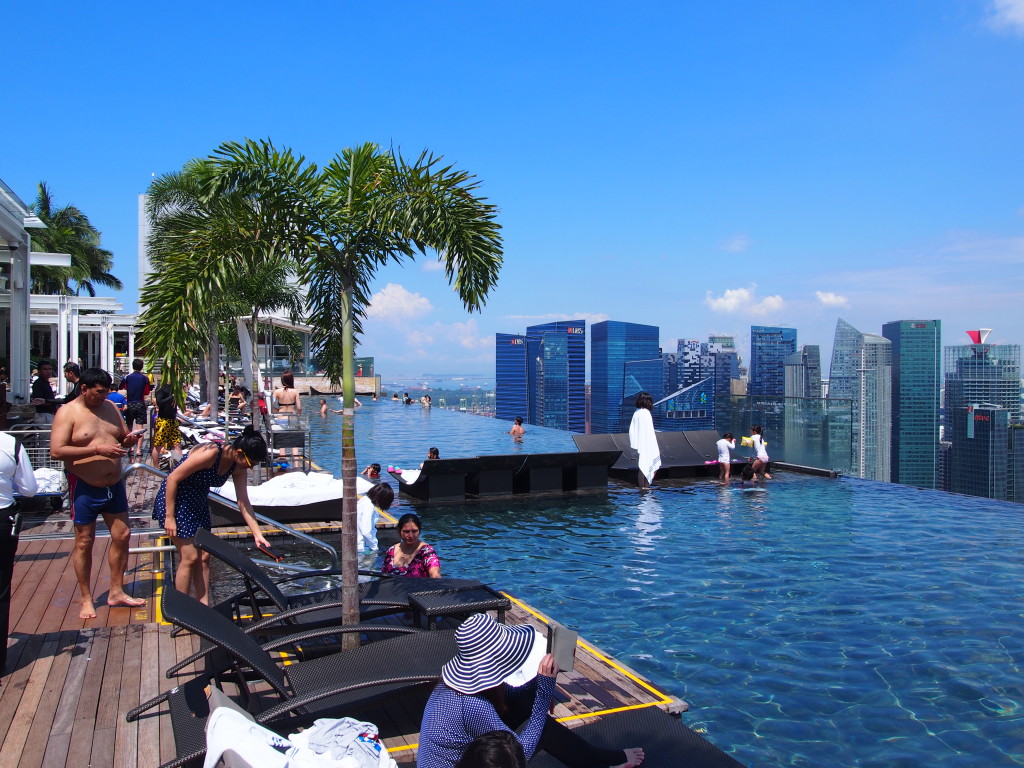 After we had soaked up all the sun we could handle (although, we all escaped sun burn free. Unfortunately, the same couldn't be said for everyone at the pool- there were plenty of crispy critters!) we showered and headed down to check out the casino and mall, all of which were attached to the hotel. You could land at the airport, head to the hotel on the subway, get out, shop, gamble and check into the hotel without ever going outside. We had dinner at a pizza place in the mall and then headed back up to the pool! The night view was even more spectacular than the day view with the city totally lit up. It was so cool. We sat and enjoyed the view for a long time.
Then, Nick and I went down to the casino with $20 burning a hole in our pockets. I sat down at one of the slots, and doubled my $10 on the first pull. So, I cashed out! Nick played two hands of blackjack, winning both of them so we walked away. Although we only spent about 15 minutes in the casino, it was very profitable.
We got up early the next morning to go see the sun rise over the hotel and the pool. It was a gorgeous sun rise and even though we were tired, it was so worth it.