When our alarms went off before 5 am we were all a little groggy- we were not excited to be up that early, but we were super excited to go fishing. We headed out to the beach where Nick and I got put in one boat (the boats are very small here, and only hold up to 3 people max. Although I have no earthly idea where they would put the 3rd person) and Ken and Kelli found a second boat a few minutes later. The boats are pretty cool looking here, they are very narrow and have these giant supports that stick out and make them look like water bugs floating along the water.
We set off with the sail out for a few minutes, but then our captain turned on the motor and put the sail down. We cruised out into the water, despite the water being a little choppy the boats were very stable with those supports and it was a far smoother ride than it would have been without them! It was still dark when we left, so we had a wonderful view of the thousands of stars overhead. We enjoyed those until the sky got too pink to see the stars anymore. Then we watched the sun come up over the water. It was so beautiful to see. After the sun rose we turned around and headed back towards the shore.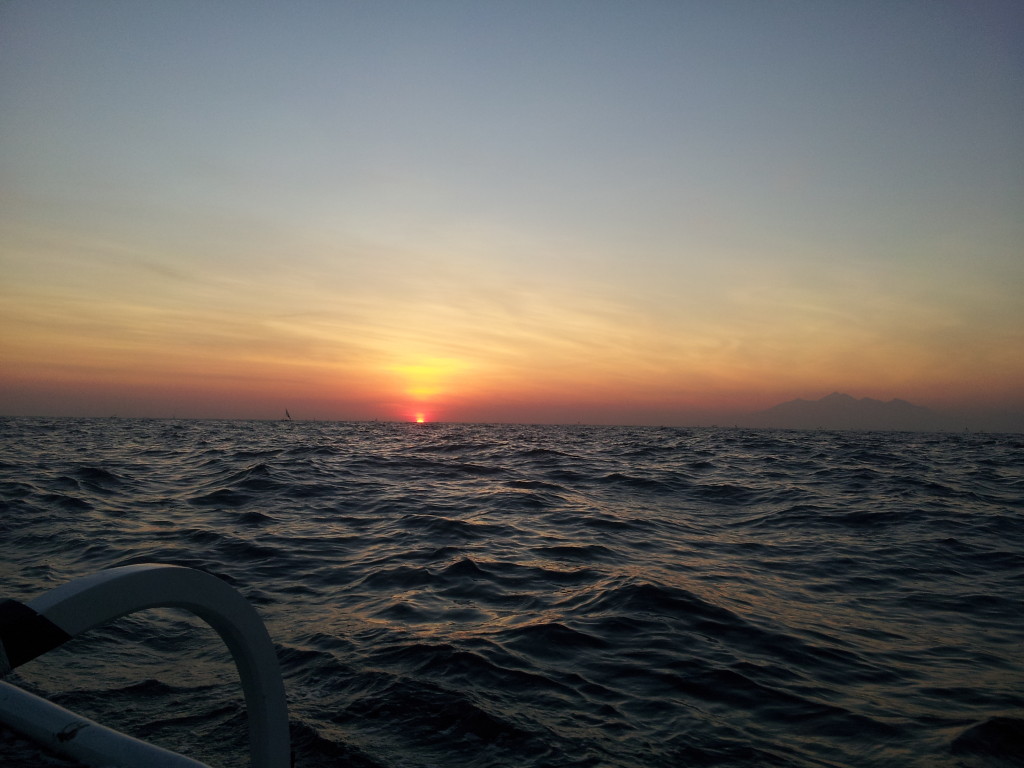 Remember how this was supposed to be a fishing trip? When we first got on we looked around and didn't see any fishing equipment. Odd, we thought, but it was such a cool ride we didn't worry much. Then we noticed that our guide was spooling out yards and yards of fishing line all covered with hooks. We thought maybe we would get something similar to fish with, but we never did. He eventually pulled in about 5-6 small mackerel before we headed back to shore. It was a fun ride, incredibly scenic and watching the sunrise on the water and then on the volcano and mountains around us was breathtaking, but it definitely was not a fishing trip in any way that we were expecting.
We ride back to the shore at a very high speed and I kept expecting him to cut the engine at any second as we got closer to land. Instead, as we got close, he gunned it and shot us up onto the beach. He then walked away. The man who had come to pick us up from the villa came over and tried to sell us a snorkeling trip later. We asked where Ken and Kelli were and he said that they were out fishing. When we said we had wanted to fish as well and were disappointed that we hadn't he abruptly stopped speaking English and walked away. We stood on the beach for about 20 minutes and then Ken and Kelli came barreling up to the shore as well. They had caught a ton of mackerel, the entire bottom of the boat was full of them!
They said that they had let out the line three times and that the second time it had come back loaded with fish. They also said that they had seen dolphins, including a momma and a baby! It was definitely not the fishing trip we had expected but we all agreed it had been fun and we had gotten what we paid for. We also got to keep 7 of the mackerel that Ken had caught- they didn't have a bag or anything, so he just carried them all by their tails back to the villa where we handed off to the lady in charge who said she would cook them up for us and have them for us for dinner at 7pm.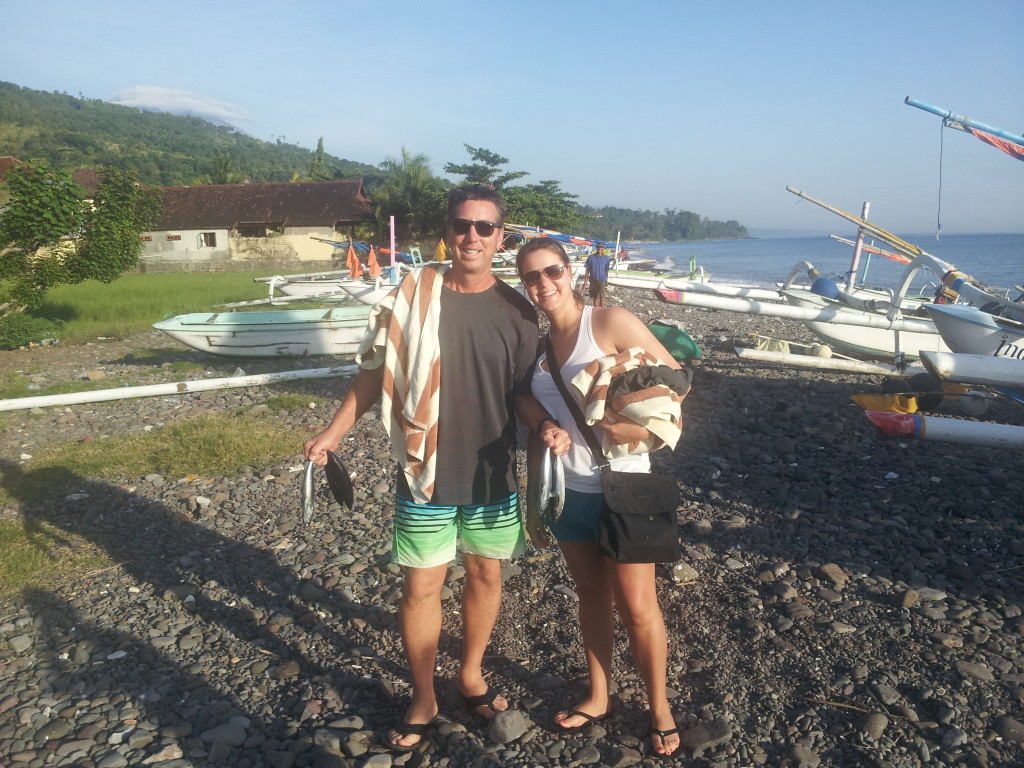 She also sent some folks over to make us breakfast, so we enjoyed our breakfast and sat around chatting for most of the morning. Eventually, we got hungry again and set off to find lunch on our mopeds. We found another seafood restaurant right on the beach and sat enjoying our lunches watching fishermen and snorkelers and enjoying the sea breezes. It was absolutely incredible, and such a relaxing day.
After lunch Nick and I set off to do some snorkeling. We had not seen anything at the USS Liberty, so we decided to try our luck with the Japanese shipwreck. We scootered all the way down to the wreck but were disappointed to find that the water there was too murky to see anything. We still put on our gear and looked, but it just wasn't happening. It is pretty creepy to swim around in water that murky so we decided to bail. We had read that another nearby beach had epic snorkeling so we decided to go check that out.
We were sure glad we decided to check it out, the snorkeling was so good! We saw schools of tiny fish, tons of coral, long skinny fish, some huge, colorful fish in greens, oranges, blues and yellows. We saw jellyfish (from a distance) and then we even saw a school of large mackerel feeding as they swam by. It was some of the absolute best snorkeling I have ever done.
We headed back to the villa, lounged around in the cabana and in our plunge pool for a while before our mackerel arrived. It arrived grilled, with its head and all, coated in a delicious but slightly spicy Balinese sauce and was served with rice and green beans. They were small but very meaty fish. We never quite got the knack for eating them without getting a mouthful of bones. Although, when we did get a bite without bones, it was absolutely amazing.
After our delicious fresh fish dinner we had massages at the villa. It was soooo relaxing and the perfect end to such an epic day. It really was an absolute blast and totally action packed.