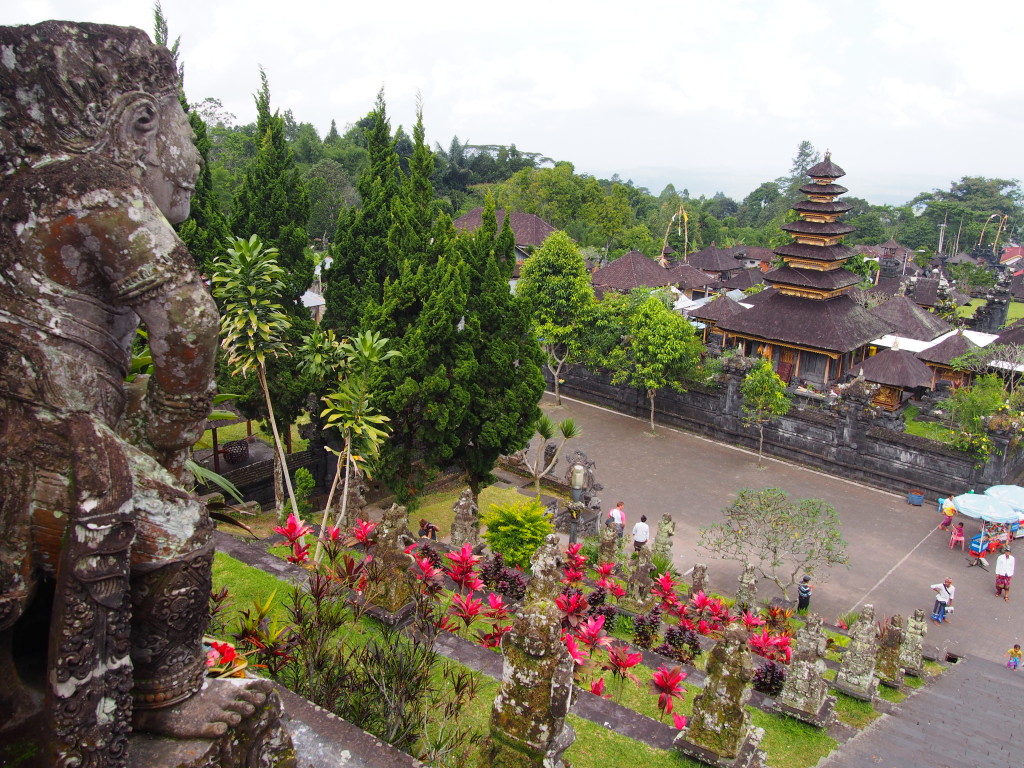 As much as we loved the beach we decided that we needed to get some more culture and wanted to see a Hindu ceremony. Although Indonesia is predominately Muslim, Bali is 92% Hindu and accounts for almost all of Indonesia's Hindu minority. We went to the managers of our villa and told them we wanted to see a ceremony. The manager recommended the largest temple in Bali. He told us that as the largest temple there were ceremonies on a daily basis and we would be sure to see one. So we went ahead and booked a driver for 8 am one morning to take us to the temple.
We were a little concerned when our driver showed up the next morning and asked us where we wanted to go. Ummm, we had no idea, we had talked to our place and thought they had talked him about where to take us. Fortunately, his English was very good and we told him what we were looking for. Our driver was a young guy with a nice car (complete with purple leather interior) who drove super slow and carefully. It was a looong, slow, but very beautiful drive. For almost two hours we drove through small villages, past tons of rice paddies and through the surprisingly large mountains of Bali.
When we arrived our driver informed us that we had to wear sarongs- lucky for us, he knew just the place to get them. Like suckers we went in and tried on tons of different sarongs, picking out our absolutely perfect pieces of fabric to tie around our waists. When we had each picked out the perfect one, we asked how much. We definitely should have started by asking how much, instead of asking after we had them on. The lady looked at us and said 500,000. We thought that was for all of them. But then she said no, that was only for Kelli's outfit- it was an additional 400,000 for each of us. 1,700,000 rupiah in all. Over a hundred dollars for 5 pieces of fabric? We were flabbergasted. And we didn't have enough money for that, plus lunch, plus entrance to the temple. After watching us flounder for a minute our guide said "bargain." After serious negotiating we were able to get her down to 900,000. I am sure we still over paid, but it was better than the original price. It was just the first in a series of expenses on temple day.
Next up was our entrance to the temple. Our driver told us that we should expect to pay 100,000 rupiah total for entrance and a guide for the temple. He said they would try to get more money but that it would all end up lining their pockets instead of going to whatever cause they said it would go to. He then told us not to tell the officials that he had said that to us.
So, we go up to the desk and the official gives us this whole spiel about how they don't have a set price to get in, but most people donate about 60 euros per person (!?!). He asked us how much we wanted to pay and when we said 100,000 rupiah for all four of us, he looked scandalized. He said, "that is only about $8" "yes" we replied "that is how much we will pay". He got out a huge ledger of amounts that people had given, and pointed out that all were above 500,000 and most were about 1,000,000. He tried his best to guilt us into paying more. Fortunately, our driver had warned us not to pay above 100,000. Even if we had wanted to give more money, the sarong lady had already cleaned Ken out. So we told him that was all we had (mostly true) and after one more try -"surely you could just give another 100,000? It will go to the poor"- he sighed and sent a guide our way.
Our guide was 22 and spoke reasonable English. He talked a lot about basketball, the Pacquiao & Mayweather fight and told us his wife was 6 months pregnant. We didn't learn a whole lot about the temples. He was very helpful in one regard though: As we were walking up to the temple he warned us not to accept anything given to us.
Our guide said that there would be ladies at the entrance to the temple who would tell us we needed offerings and force the offerings into our hands (he said if we wanted to make offerings it was much easier and cheaper to purchase them inside the temple). His warning came just in time, as soon as he had uttered it the ladies with the offerings were upon us, shoving offerings into our arms and telling us we needed them. Our guide made it through the onslaught of temple ladies first, Nick and I followed. Nick turned around just in time to see Ken take one of the packages the ladies offered. "Dad! He just told us not to take those!" Ken looked around, trying to give it back to the lady he had taken it from, but every time he tried to hand it to her she turned her back to him, making it impossible for him to give it back to her. Finally, out of options, he tried to toss it into her basket. It missed and fell to the ground. Immediately, all the ladies started shrieking. Sure that we had just committed a major faux pas, we all sped walked into the temple. Although it took a light assault on one of the ladies, we managed to make it onto temple grounds offering free.
The rest of the temple tour passed uneventfully. The temples were very large and very cool, they were built in the 8th century and being high up in the mountains they were cooler than many areas and very mystical looking with their swirling clouds.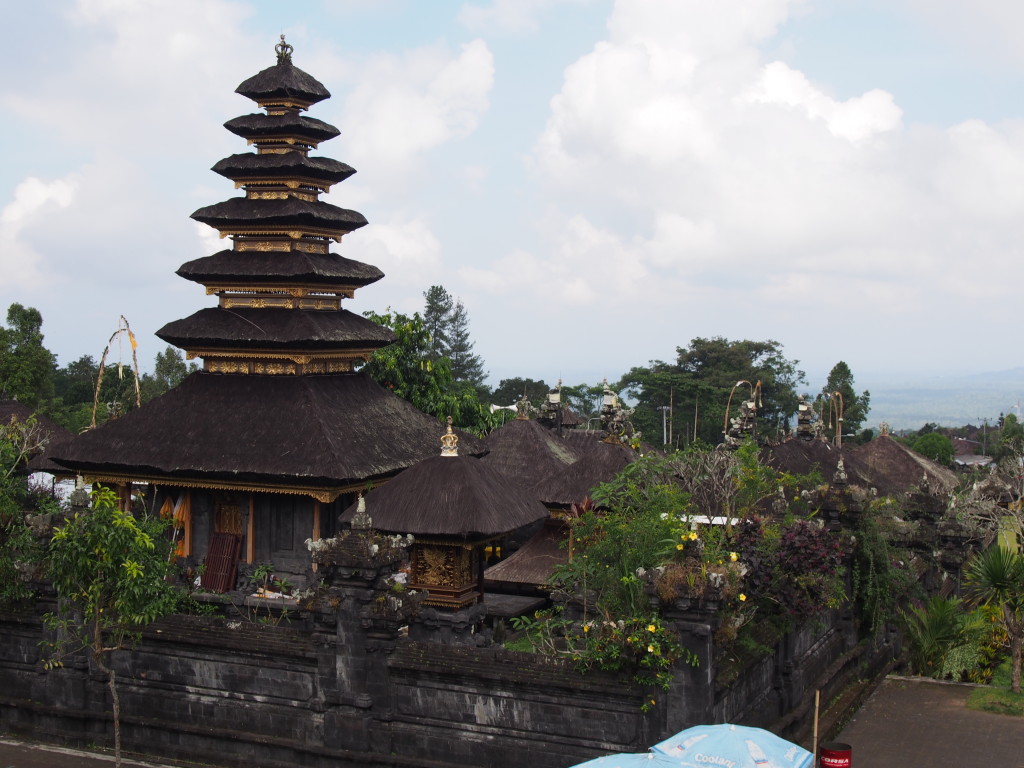 We enjoyed the trip very much, but our biggest request was to see a ceremony and we didn't. After about an hour at the temple we headed back to our driver. We said goodbye to our guide who reminded us that his wife was 6 months pregnant before asking for a tip.
Our driver told us we were close to a large lake at the base of a volcano and asked if we would be interested in going there next. Sure, why not? We figured that we would probably regret not visiting and we wouldn't want to drive the 2 hours again just to see the lake. On the way we passed a small temple where there was a large ceremony going on. People were dressed to the nines and it was absolutely packed. Although we only saw it from a distance, we were at least excited that we got to see something. When we arrived at the lake, our driver informed us that there would be an entrance fee there as well. Of course there would. He assured us that he would bargain on our behalf. As soon as we arrived, our car got flagged down by officials and our guide (supposedly) talked them down to 70,000 rupiah for all of us. He dropped us off at a corner near a gorgeous panoramic viewing area. As soon as we got out of the car we were swarmed. Kids selling postcards, adults selling t-shirts, wooden boats, fruit, tours, you name it, it was for sale. We snapped a few pictures before deciding enough was enough and got back into the car.
We asked our driver if he knew of any good places to eat lunch. Of course he did! He told us we could get a nice lunch or cup of coffee overlooking the lake and the volcano. The view was good, I will give him that. The food was a mediocre buffet that cost 110,000 rupiah per person. And you could only have coffee if you purchased the buffet. Sheesh. It was also the only place where it didn't take an minimum of one hour to eat. They had us in and out, quickly. Other restaurants cooked everything to order and would take their sweet time getting the bill. It didn't matter what we ate or where we ate it, it was a minimum of an hour per meal, usually more. Here, as soon as they had cleared our plates they were climbing over us trying to reset the silverware for the next guests. But, the view was outstanding.
After lunch we were tired of getting nickled and dimed and asked for money every few minutes. So we told our driver just to take us home. It was a long drive home, and we all had a hard time keeping our eyes open. Hot, tired and poor, we spent the rest of the day relaxing by the pool drinking fresh coconuts.